"Oh, Link, this tiny village that you call home is lovely. Though I don't know if I could live here..." - Princess Zelda
name........................Aboda Village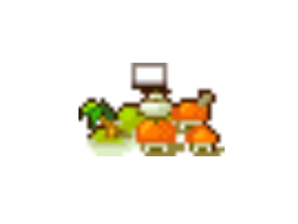 foreign names............Outset Village (European)
caption......................Aboda Vilage
region........................Forest Realm
climate......................Temperate
points of interest.........Niko/Link's House, Alfonso's House, Stamp Station
Aboda Village
Edit
Aboda Village is the small, hometown of Link in The Legend of Zelda: Spirit Tracks. It is also where the game begins, and where Alfonso's house can be found. The Train Station is part of the same building as Alfonso's House.
There is also a boy who wants to go into the air, and you must bring him to Beedle's Air Shop. For this, he will give you a force gem.
A man who loves Cuccoos also resides here. When the hero gains a freight car, you can bring him ten Cuccoos from Castle Town. However, the freight car can only hold five items, so two trips are required. He will also give you a force gem.
Etymology
Edit
Most likely,  the name Aboda comes from the word abode, meaning house or home.
Structures
Edit
Niko/Link's House
Alfonso's House/Train Station
Stamp Station
Family of Four's House